Join the Online Seminar Series Now!
Next: 24th/Jan/2023
---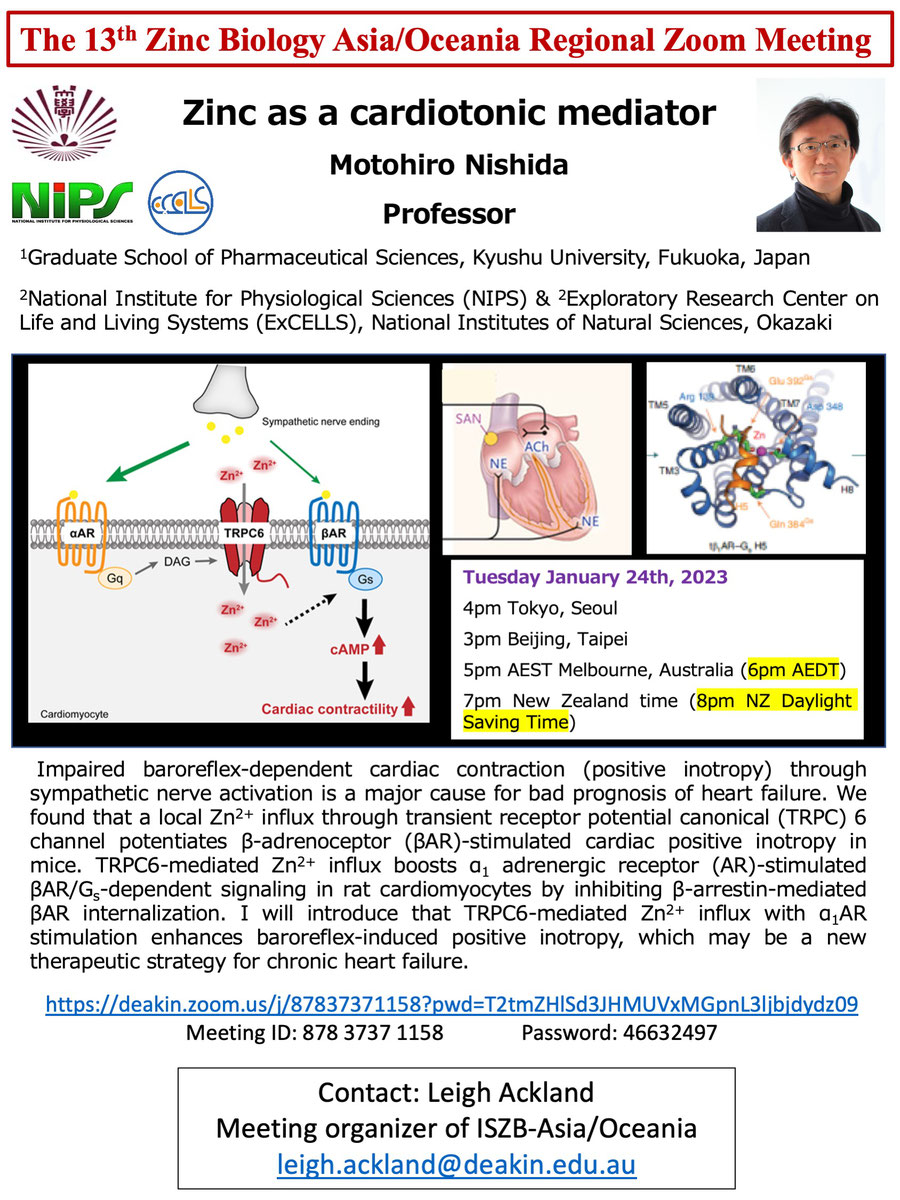 ---
"Wishing all of you Happy Holidays and a Happy New Year 2023!"
  plus…
"Let's think Zinc more and more!"
Best regards,
Toshiyuki Fukada
ISZB President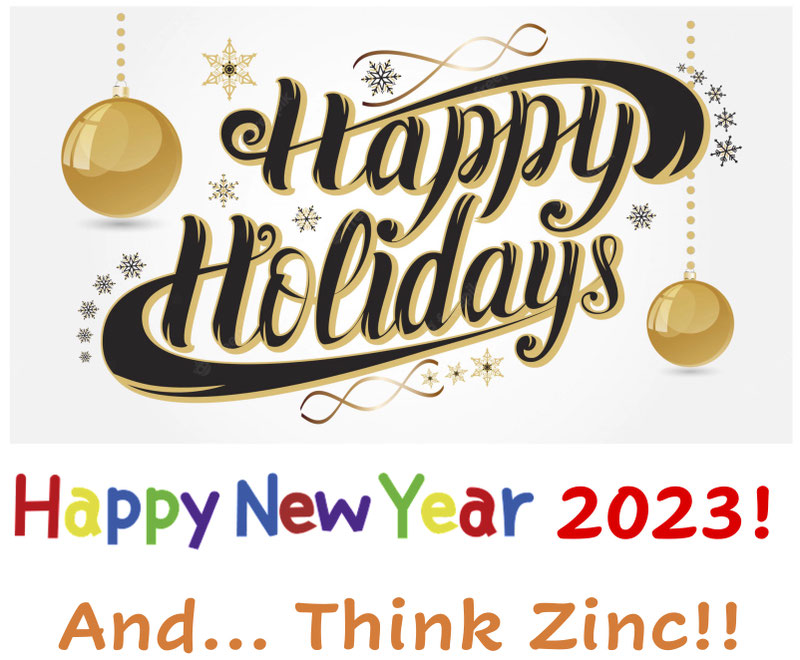 ---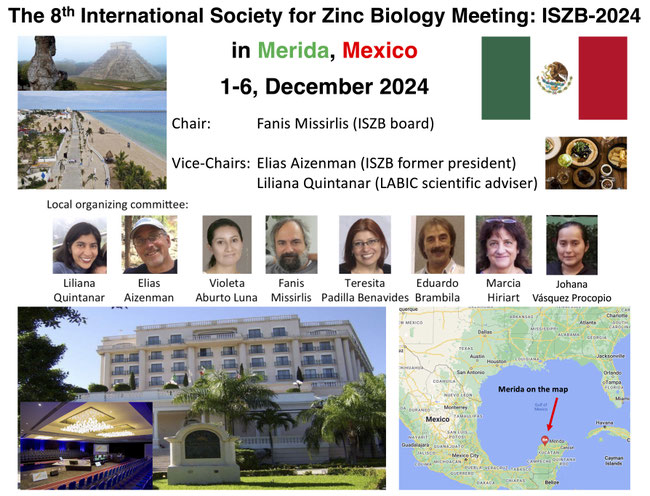 Dear friends and zinc biologists,
I am pleased to inform you that the next ISZB meeting (The 8 th International Society for
Zinc Biology Meeting, ISZB-2024) will be held in Merida, Mexico in 1-6 December
2024. Please mark your calendars and save the dates for the conference.
I look forward to meeting you in Merida, Mexico in 2024!
Best regards, 
Toshi Fukada
The 7th President of International Society for Zinc Biology (ISZB)
Posted on 25th/Nov./2022
---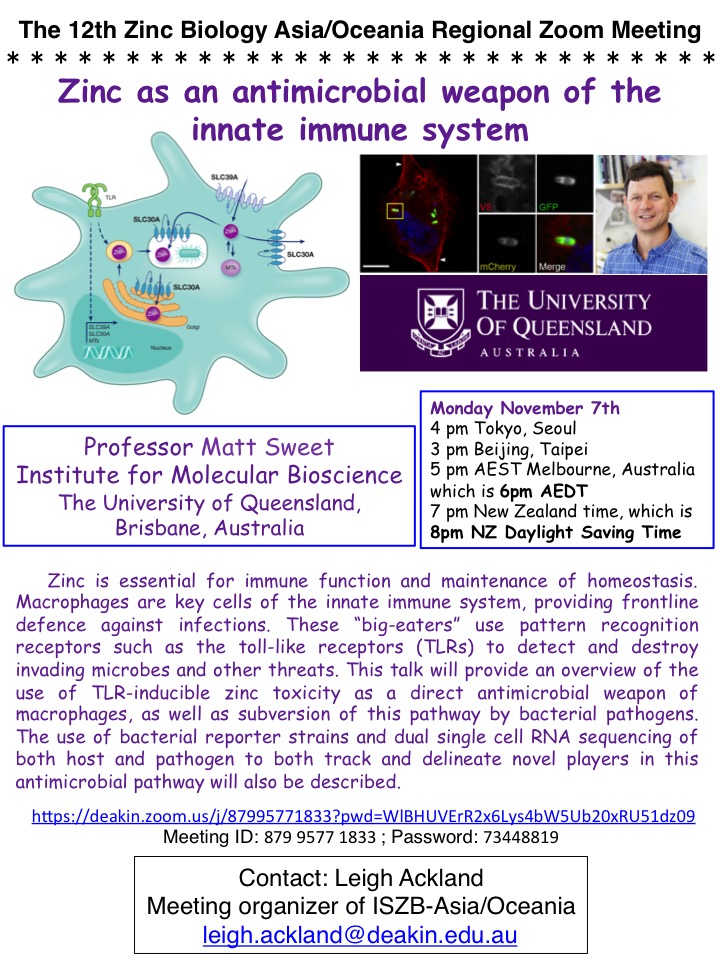 ---
PhD position
The Laboratory of Molecular Physiology in Barcelona offers a fellowship for doing a PhD. 
We are looking highly motivated scientists. The research project is focused on dissecting the dysregulation of zinc fluxes through ion channels and transporters in pathological processes.  Deadline to submit applications 12/10/2022.
The full offer and application process can be found in:  https://www.upf.edu/web/lmp/job-offers
---
Dear ISZB members,
The ISZB call for meeting proposals from members to be considered by the board is now open. The deadline for these proposals is 31st Oct 2022.
We decided in the business meeting to follow the rotation for the meeting (Asia – Europe – North America – Rest of the World). Currently we plan to have a meeting in North America for 2024, and in the rest of the world (Africa, Australia, Oceania, and South America) for 2026. On this Occasion, we will decide for both the 2024 and 2026 meetings at the same time.
When submitting proposals please include details of transport, venue, accommodation, costings, registration fees, length of meeting (including proposed dates), any trips, what meals are included and whether there is any free time for participants. Clearly, it will be easier for the board to make a positive decision on a venue if the proposal is complete.
Please submit your proposal to "iszb.org@gmail.com"
Best wishes,
Toshi Fukada
The 7th President of ISZB

---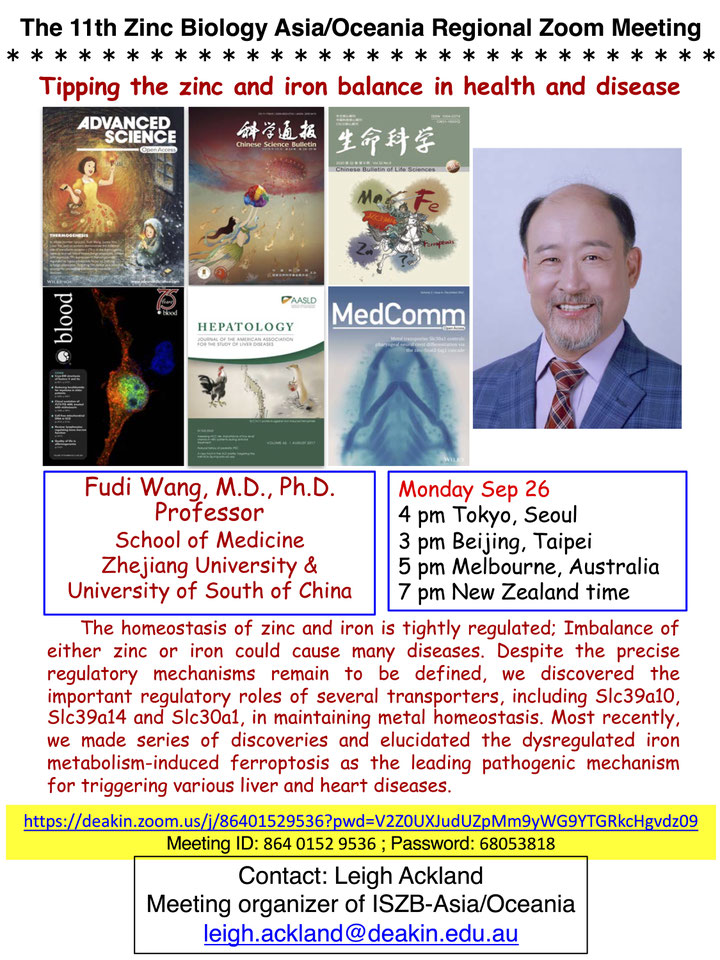 Corrected on 12th/Sep.
Posted on 7th/Sep.
---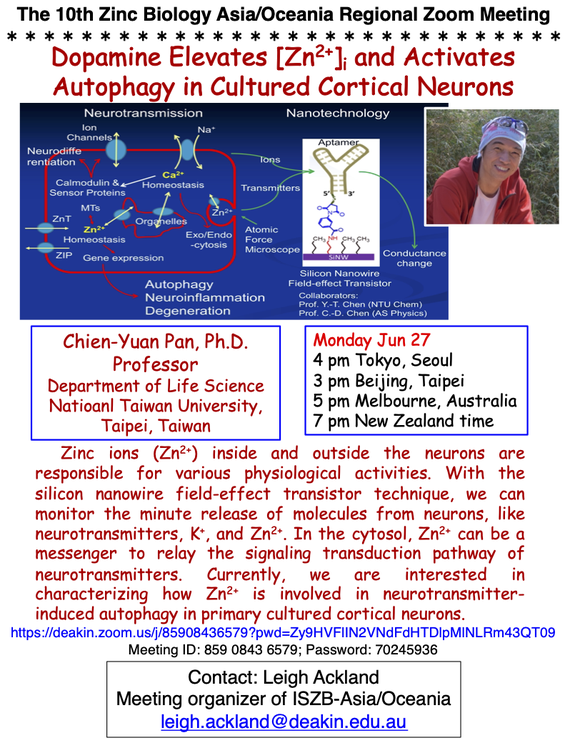 Corrected on Jun/3rd
Posted on Jun/1st
---
The 8th International Symposium on Metallomics will be held in Kanazawa, JAPAN, on July 11th-14th, 2022.
To learn more, click on the link below.
http://www.ism-8.jp/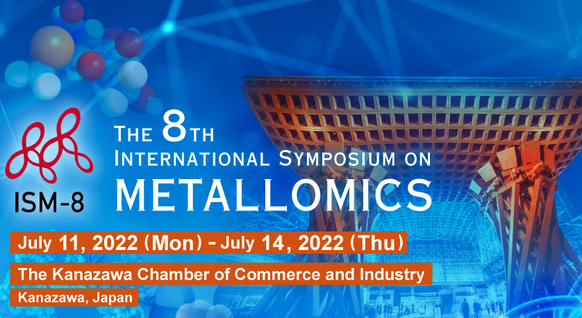 ---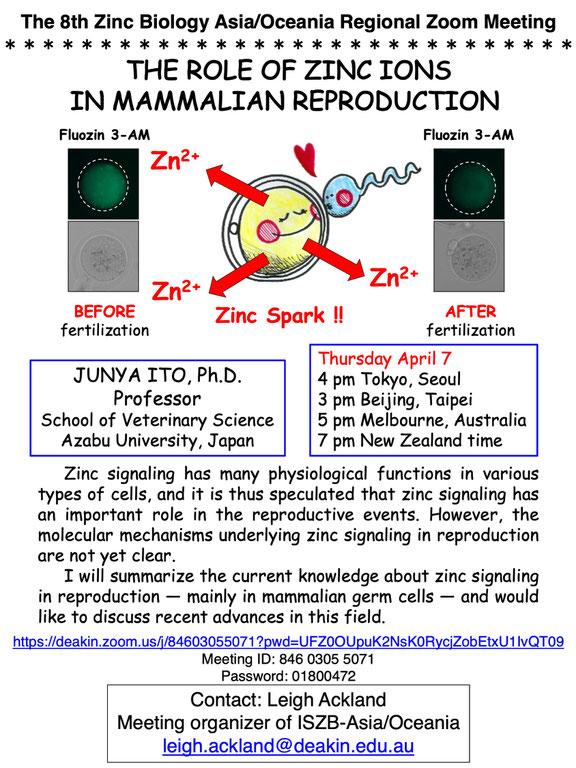 ---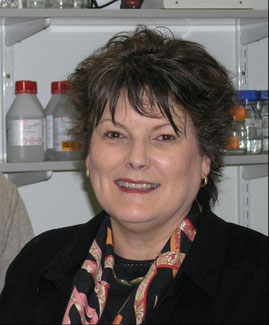 Dear ISZB members,
 
On behalf of the 2022 ISZB-Award/Frederickson Prize committee, I am delighted to announce that the prize will be awarded to Dr. Kathryn Taylor (Cardiff University, UK) for her pioneering studies of Slc39a/ZIP transporters in cell biology and cancer, together with her long-termed contributions on the administration of ISZB. Kathy has played a number of important roles including an elected board member of ISZB and the 5th President of the Society. She has also been instrumental in the enlightenment of zinc biology for local areas through her involvement with Zinc-UK. Furthermore, her educational and outreaching efforts to engage young zinc scientists should be recognized.
 
Based on these reasons, Kathy was voted by the committee to be the 2022 recipient of the ISZB-Award/Frederickson Prize. We believe that Kathy is well deserving of this honor for her achievements, efforts, and contributions to zinc biological science.
 
Kathy will be awarded the prize at the 2022 ICTEM meeting in Aachen Germany, so please send your congratulations to Kathy at this moment, and let's share this great happiness with her.
 
Huge congratulations to Kathy!
Best regards,
Toshi Fukada
ISZB-President
Chair or the ISZB-Award/Frederickson Prize 2022 committee
Posted on Mar/11th
---
R.I.P. Prof Ananda Prasad (1928-2022)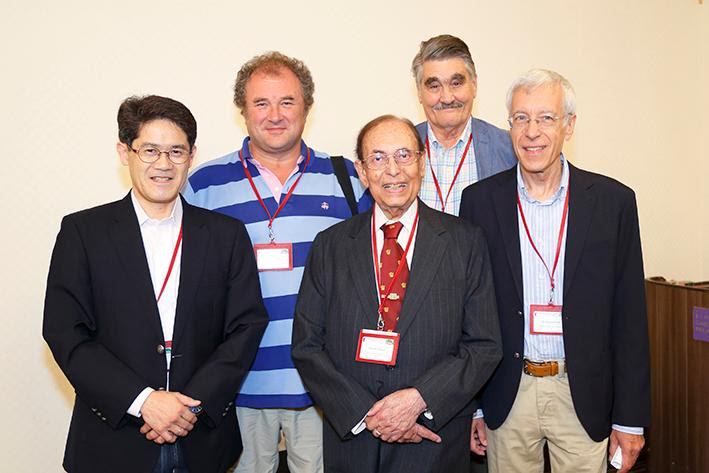 I have received some very sad and unfortunate news that Professor Ananda Prasad, a great and legendary scientist of zinc biology, passed away February 5th, 2022, at 94 years old.
As you all know, he was the first to initiate research into human zinc biology, and remained a leader in this exciting field for a very long time. His research made many people realize that zinc is essential for our health. He was a remarkable man that provided inspiration to so many zinc researchers. We will remember him not only for his great scientific achievements but also all of the memories we all share with him. For me, in particular, his attendance at the ISZB-2019 conference in Japan was unforgettable and appreciated very much.
Most importantly, he was loved by everyone in the world. Please pray that his soul may rest in peace. One thing is for sure, he will live in our hearts forever.
Sincerely yours,
Toshi Fukada
 ISZB-President
---

---
Jan/ 25th/ 2022 (Web)
Next meeting
Presenter: Dr. Zhelong Xu, MD, Ph.D,
(Tianjin Medical Univ./ China)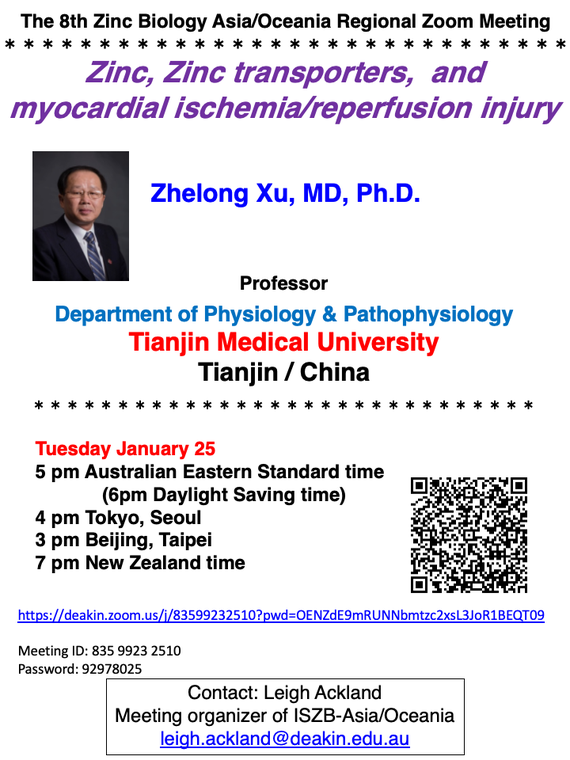 ---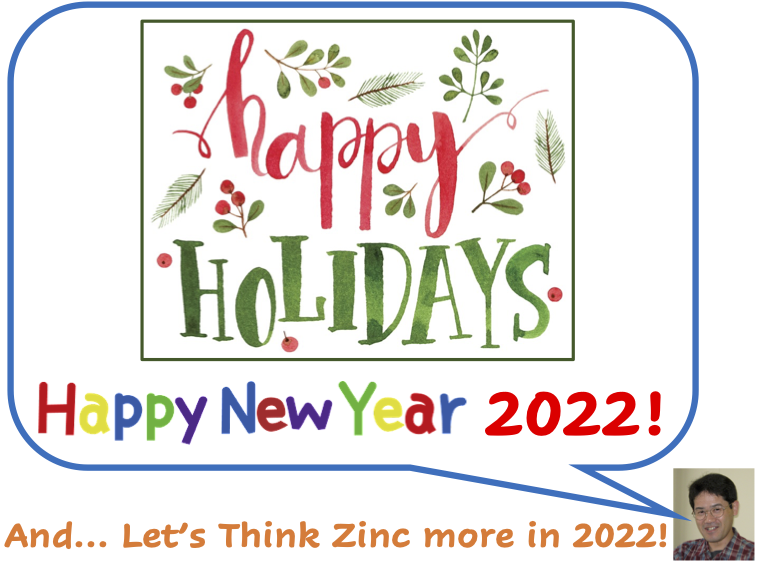 Dear all,
"Wishing all of you Happy Holidays and a Happy New Year 2022!"
  plus...
"Let's think Zinc more and more!"
ISZB President
Toshi
---
Dec/ 15th/ 2021 (Web)
Past meeting
Presenter: Dr. Moon-Suhn Ryu
(Yonsei Univ./ South Korea)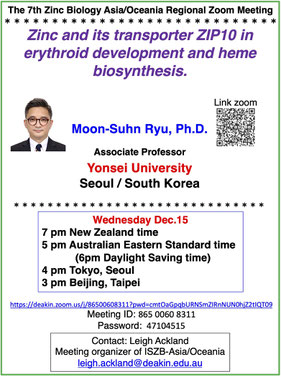 Nov/ 23th/ 2021 (Web)
Past meeting
Presenter: Dr. Mari Skar Manger
(Aotearoa/ NZ)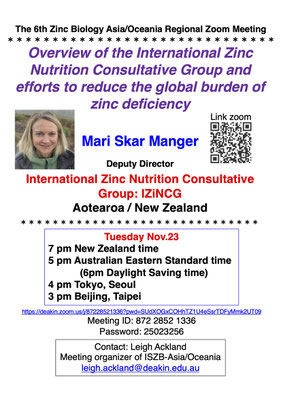 Past meeting
Presenter: Dr. Taiho Kambe
(Kyoto Univ. JAPAN)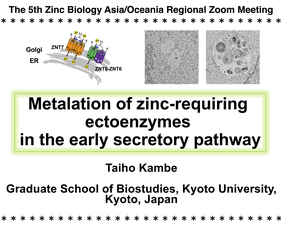 Zoom
ID: 865 0429 4559
PW: 89421563
5PM Australia
4PM JAPAN
3PM China
https://deakin.zoom.us/j/86504294559?pwd=YTFSSUpiMWxSZjRVZGpvSFdZNDVVUT09
---
Past meeting
Presenter: Dr. Lothar Rink
(RWTH Aachen University Hospital, Germany) 
'Zinc as Gatekeeper of the Immune System'.
Zoom-Meeting
https://rwth.zoom.us/j/93321866354?pwd=dUxRQVFlTDhkM0RpS29iUXJuK3dVQT09 
Meeting-ID: 933 2186 6354
Password: GMSSeminar
 (on German Society for Minerals and Trace Elements (GMS) online meeting)
---
Past meeting
Presenter: Dr. Bing Zhou
(Tsinghua Univ. CHINA)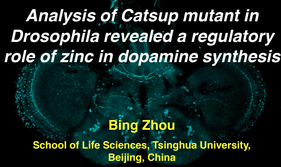 ---
Past meeting
Presenter: Dr Khanh Le
(Tapie Medical Univ. TAIWAN)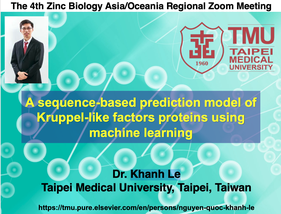 ---
Past meeting
Presenter: Dr. Toshi Fukada (Tokushima-Bunri Univ. JAPAN)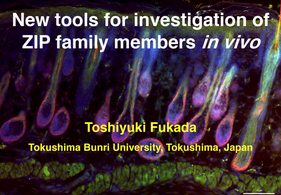 ---
Presenter: Dr Peter Zalewski (Adelaide Medical School. AUSTRALIA)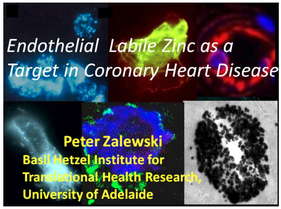 ---